A Loving Civilization
The New Testament phrases basilea theou and basilea ouranos — the kingdom of God and the kingdom of heaven — play central roles in how Jesus thought about God's activity in society. I think these words might best be understood today as pointing to a civilization oriented around love.
English-speakers often translate the first ancient Greek phrase, "kingdom of God," and the second, "kingdom of heaven." "Kingdom" links naturally to human political themes, of course. But there is strong biblical evidence for the idea God cares for nonhuman animals, other creatures, nature, and all creation. All creatures should might be considered potential participants in the basilea theou and ouranos.
Problems with Kingdom Language
Problems arise, however, when translating basilea as "kingdom." Monarchs have been power-hungry, destructive, oppressive, and self-centered.
Political systems based on monarchies allow little to no place for contributions by the common person, let alone the last and least. Consequently, "kingdom" has negative connotations for many today.
Most contemporary people prefer democratic political systems over monarchical ones. In fact, many regard democratic forms of government morally superior, because democracies assume all citizens have voice.
Democracies have leaders, of course. Few think absolute anarchy morally defensible. Political systems with necessary roles for leaders and followers, governors and citizens seem to many people best overall.
Kingdom Alternatives
Given the negative associations many have with monarchies, I recently asked friends to propose replacement phrases for the "kingdom of God." English speakers are not required, of course, to translate basilea "kingdom." And if most of us have negative associations with kings and queens, we have incentive to search for better language about God's polis.
Here's a partial list of phrases my friends suggested to replace "kingdom of God" or "kingdom of heaven." As you read each, ponder their strengths and weaknesses….
Alternative Life, Blessing of God, Community of Love, Community of the Divine, Covenant Community of Christ, Domain of God, God's Dwelling Place, God's Household, God's Loving Ecosystem, God's Loving Way of Life, God's New Order of the Spirit, Great Love Consortium, Kindom of God, Love's Availing Power, Loving Influence of God, Reign of God, Republic of God, and the Unknown Country of God
I like many of these suggestions. I'm attracted to alternatives that either explicitly or implicitly place an emphasis upon love. This attraction undoubtedly stems from my view that love is first and foremost God's way of acting and being.
"God is love," says John. And I think first of love when I consider the revelation of God expressed in Jesus. Jesus said the greatest commandments revolve around love. Biblical writers often point to love as the way we ought to orient ourselves toward God, others, and ourselves.
Is Love Too Weak?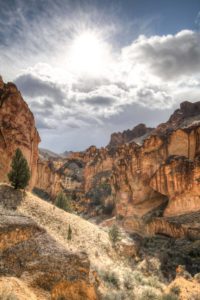 Some may think replacing "kingdom" with the language of love unhelpful. To them, "love" is wishy-washy, weak, or a weasel word.
Others defend kingdom language by arguing that a divine King is not like human monarchs. God is supremely wise, active, and good. God stands as a prophetic alternative to human regimes of oppression. Besides, they argue, retaining "kingdom" as the preferred translation of basilea keeps our focus on God as authority.
I see advantages to having language that describes God as supreme rather than an equal. And I want to retain the idea that God has authority shaped by love. To my mind, however, "kingdom" carries negative connotations not overcome by simply saying God is a "loving king."
Jesus' basilea Language
There's a further issue to consider. When Jesus used the basilea phrases I noted above, he rarely used them in relation to authority and rule. The basilea is like yeast, a mustard seed, a field, a pearl, etc. He said the basilea was within his listeners or "at hand," without implying we find it in the political structures of his day.
In his illustrations, analogies, and metaphors concerning basilea, Jesus seems to suggest God's authority is influential but noncoercive. It has an effect in us and creation without being controlling. The basiliea is rarely if ever top down. It always seem to well up from "below," especially from the least expected places and people.
In sum, Jesus' description of the basilea doesn't fit the power schemes of kings and queens. In fact, it doesn't fit the traditional views of God's omnipotence!
Kenarchy
Whatever we want to say about God's leadership, I suggest we talk about it as winsome, wooing, calling, and uncontrolling. It is expressed in God's essential kenotic love.
Roger Haydon Mitchell coined the word – "kenarchy" – to capture the political dimensions of this love I'm addressing. The first half comes from the New Testament word kenosis, which is often translated as self-giving love. The second half comes from arche, which refers to a way of ordering social structures.
Mitchell explains it this way, "By forming the word kenarchy to refer to the kingdom of God, we are deliberately referring the political character to the message of Jesus and reapplying it today. The message of Jesus is a politics of peace, of peace through love…"[1]
I agree with Mitchell about the primacy of love for politics, when "politics" refers to the polis. I think God invites us to contribute in the loving civilization God leads.
God as Leader of a Loving Civilization
As Leader, God does not sit on the sidelines or watch from a distance. This Leader of Love exerts influence at all levels of complexity, to all creatures great and small, in the private and public domains.
God's leading is powerful but not coercive. Rather than governing through threats or violence, the omnipresent and loving Leader of this civilization draws, calls, invites, warns, transforms, guides, woos, and more.
The basilea theou/ouranos is a God-guided loving civilization.

The basilea theou/ouranos Jesus proclaimed is a God-guided loving civilization. I'm acting to establish that civilization today.
Click To Tweet
---
[1] Roger Haydon Mitchell and Julie Tomlin Arran, eds., Discovering Kenarchy: Contemporary Resources (Eugene, OR: Cascade, 2014), 3-4.